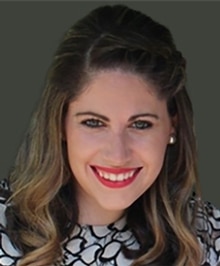 Jamie graduated from Cardozo Law School, where she served as an articles editor for the Public Law Policy & Ethics Law Journal.   
She lives in White Plains with her husband and two children. 
One of the most rewarding parts of my work is helping clients navigate a difficult and stressful period in their lives by providing sound legal advice, and at times, emotional support and guidance.   
Jamie has nine years of experience helping clients plan their estates and navigate the estate administration process.   She takes pride in providing clients with peace of mind, knowing that their loved ones will be taken care of for generations.  When a loved one has passed away, Jamie walks clients through every stage of the probate and administration process and helps them to efficiently manage the estate after they have been appointed as the executor or administrator.  Jamie strives to make the estate administration process as seamless and stress free as possible.  She enjoys practicing trusts and estates because the very personal nature of the work fosters long-lasting relationships with clients.